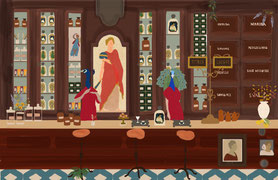 BULY 1803
Where beauty and coffee, dried flowers and powder, muses, nymphs and baristas all exist together. I sit by the bar and swing around in my stool while she smells all the fragrances of the Orient. I order coffee and she vanity. I try cake and she Moroccan lipstick. Coming to Paris made sense for this room, this fragrance and the gazes I got from the goddesses of beauty.
---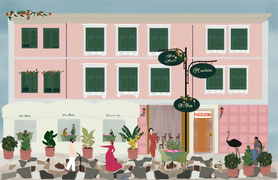 THE BAR ITALIA
                         April til September 2018
---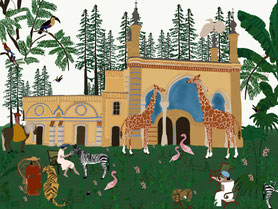 ZOO
And I would never be okay with the zoo,
So blue I would be in the Zoo.
There was once an Elephant behind the Moulin rouge,
And Giraffes huge under Berlin's moon of June.
They even bare witness to our war,
Hundred times worse than the Lion's roar!
And for what was it all but to say, 
"Look at these Zebras that still prance today!"
And I would never be okay with the zoo,
So blue I would be in the Zoo.
---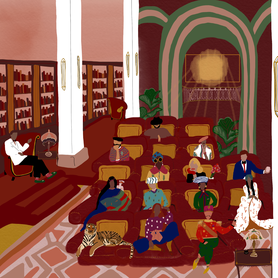 THE MOVIES
Velvet seats where Hollywood is only a memory now, 
being a star, 
and how the world would bow
encore, encore, they would call
and how the curtain would fall. 
But she stood on stage more mesmerised by the crowd,
dashing, sizzling audience.
First row, royalty, last row loyalty
Forgotten lines
Forgotten star
Disloyalty
---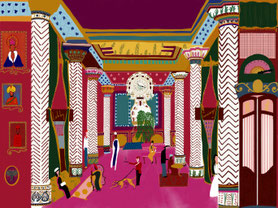 A BABYHOOD OF DEITIES
I had a babyhood of deities,
and I was told they all lived within my body,
which they said was a temple.
 So I corrected them and said," no its a lobby"
---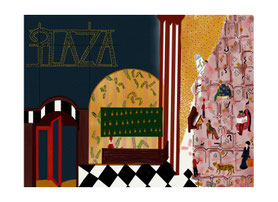 THE PLAZA HOTEL
"Please don't tell me you don't love me in The Plaza.
Tell me later,
just not in The Plaza."
---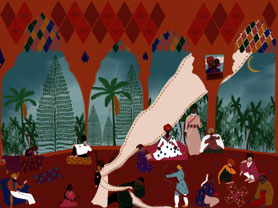 THE MAHABHARATA
Sakuni said, "Do you want to play again?"
"What is left?" said Yudhishtira, wearily.
"Your wife."
"No!" "Yudhishtira, you must not!" "Yudhishtira, you have carried this too far."
 "This must not be allowed." Murmers of protest and repulsion came from the assembled kings. But the fierce insanity of the gambler on a roll blazed from Sakuni's eyes, and Duryodhana was virtually trembling in anticipation of his total triumph. With a sweeping, humiliating gesture, Sakuni played.
"There, I've won again," said Sakuni.
Duryodhana crowed. "We will make her into a serving maid, and she can clean the palace. Vidura, go fetch Draupadi."
Draupadi refused to come. "First," she commanded the servant, "ask Yudhishtira this question - did you lose me before or after you lost yourself? 
Bring me his answer, and I will come with you."
Duhsasana had to subdue Draupadi by force. He dragged her out of the women's quarters and into the assembly hall by her hair.  Then, as Draupadi stood helpless, clad only in a sari, weeping with shame
 and rage, Duhsasana ripped her sari from her to expose her nakedness.
But she was not naked. She was still clad in her simple shift. 
Cursing, Duhsasana reached out again and ripped it off.
And Draupadi was still not naked.
Again and again Duhsasana ripped Draupadi's clothes away, until the floor of the assembly hall was littered in a rainbow of gowns. 
And she was still not naked
---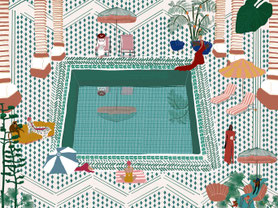 THE POOL
She knew about horses, about wine, about India, chickens and their last breath;
about revolutions in books, uprisings in the east, no evolution in mankind, about lavender, the court and the judge, not much about chess, about destiny and motherhood,
and about being a mother or something like that.
She was then saved by a man or a professor, who came by foot because he never learned to ride a horse, and brought her home.
He kept guns and swords in his cupboard to bequeath to his son who loathed him, and she kept whiskey in hers to leave to the maid who she loathed but depended on.
It was never love, and they never intended it to be.
He was a man who desired the queen in poker and sacrificed the queen in chess, and she knew he would never leave because despite her shortcomings she was professionally beautiful and always looked elegant on a camel. And he always promised they would ride into Darjeeling until they missed the Jazz, but they got stuck on the French Riviera, and she stopped believing in the promises he made her by the swimming pool. 
---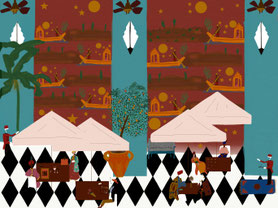 THE IMPERIAL
" I learnt in India, in the Imperial Hotel,
that women should walk like elephants and not like horses.
And that you can get an etiquette tip from the Bellboy 
before you leave it in the pocket."
---